Next week will be Thanksgiving (where has November gone!) and Christmas as it is right around the corner.
With everything going on in our country and world, this year the holidays will look and feel very different than past years. For many of us we may be celebrating alone or only with our immediate family in our homes.
With the change of pace in our Christmas celebration, maybe it's time to add a tradition? Bring the anticipation of Advent as we dive into the real reason for Christmas and the story of Jesus's birth.
There are several ways this can be done!
1. The Shepherd on the Search™ is a fun family tradition that celebrates the birth of Christ! When the angels visited the shepherds to tell them the good news, YOUR shepherd set off on an epic journey to find the newborn baby the angels had foretold. The journey begins anew every Christmas season and ends on Christmas Day with your shepherd finding his way to the manger to worship the baby Jesus.
This special edition set includes: the book, the shepherd plush with vest and satchel, the camel plush, a set of 14 activity cards, and a storage bag (not pictured) to keep everything together and packed away for next Christmas!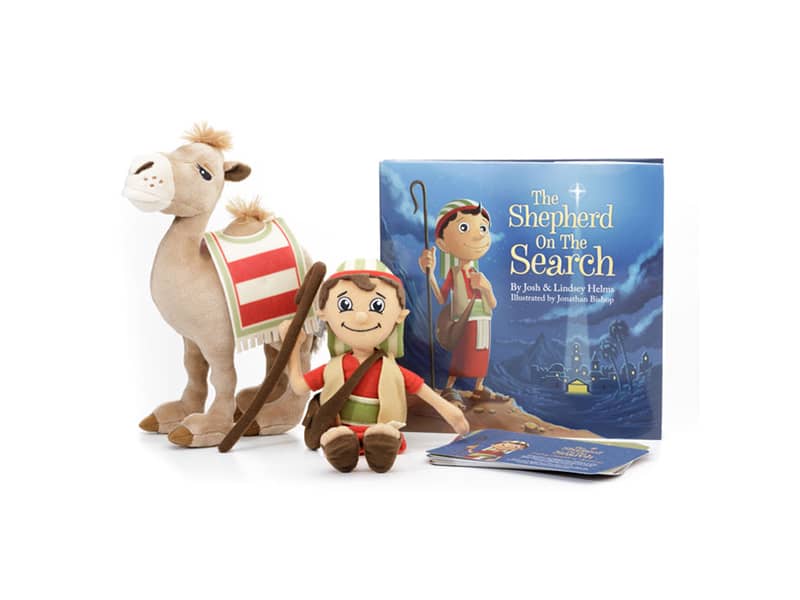 2. The Shepherd on the Search Hanging Countdown Calendar and Family Advent Book. Countdown to the real reason for Christmas with the Shepherd on the Search Hanging Countdown Calendar. Kids will have fun moving the Shepherd from one pocket to the next until Christmas day. The pockets are great for daily Scripture memory verses, candy, small toys and other items. Best of all, on day 24 and day 25 there are two special messages inserted into each pocket which point your child back to the true meaning of Christmas. Rolls up for easy storage. Measures 22"L × 17"W.
The calendar comes with a 25-day advent devotional book that is filled with fun, interactive stories, Scripture readings, questions, and simple activities.

3. For the adults The Story Of Christmas by Sherri Gragg will help you see, hear, and feel as never before the miraculous fulfillment of the promise of "God with us" through these thirty-one, poignantly retold Advent stories. From Eden's perfection and the Red Sea's roar to the joy of Ruth and Naomi, the reign of David, and the hallelujahs of Bethlehem, each momentous scene will draw you into the unfolding drama that brought the Hope of heaven to earth – and is still transforming the hearts of those who seek Him today. Hardcover with gold foiling, 5 1/4″ x 7 1/4″, 208 pages. You can also join the Mary & Martha in a new community group on December 1st as we walk through the Story of Christmas with Sherri! Just ask me how!
These may just make your Christmas feel more peaceful and a bit brighter this year, and posssibly years to come!