"If the Lord had not been my help, my soul would soon have lived in the land of silence. When I thought, "My foot slips", your steadfast love, O Lord, held me up. When the cares of my heart are many, your consolations cheer my soul. –Psalm 94:17-19
We are living in a very fear-driven, anxiety-filled world right now.
Many of us are for the first time facing the fact of our own mortality. We realize that at any moment, we could easily catch a virus, that could potentially take our lives. Or we are faced with how our family members could easily be taken from us.
We fear for our jobs. So many have suddenly found themselves without employment, and unable to pay the bills. 
And then we are told to stay home. To stay away from any other people. We are commanded to social distance, for the good of others.
I don't know about you, but it can be a trying time for me some days.
At times, it all feels like it's going to be okay. I know that we will get through this, and be so much stronger for it.
But some moments, it can feel so overwhelming. Like the world is falling apart right in front of me, and I can't do anything about it. All I can do is watch from the sidelines.
During the times it feels so overwhelming, it can feel all too easy to spiral down a hole of despair. But we as Christians are not called to that.
We are called to continue on. To look to the Ultimate Giver of Peace and Comfort, our Lord and Savior, Jesus Christ.
That's why when I feel myself spiraling into a pit of despair, I make an effort to pause and evaluate what is causing those feelings. Too much media exposure? Click the T.V. or phone off. Too many opinions and complaints from too many people? Take a social media break.
And then I look to Scripture. God's word is filled with promises of hope and joy for those that are filled with fear.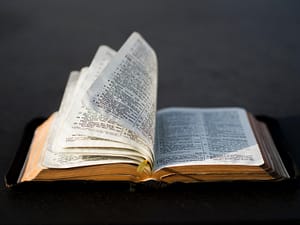 Be careful for nothing; but in everything by prayer and supplication with thanksgiving let your requests be made known unto God. And the peace of God, which passeth all understanding, shall keep your heart. Philippians 4:6-7
Take therefore no thought for the morrow: for the morrow shall take thought for the things of itself. Sufficient unto the day is the evil thereof.s and minds through Christ Jesus. Matthew 6:34
Be strong and of a good courage, fear not, nor be afraid of them: for the Lord thy God, he it is that doth go with thee; he will not fail thee, nor forsake thee. Deuteronomy 31:6
Peace I leave with you, my peace I give unto you: not as the world giveth, give I unto you. Let not your heart be troubled, neither let it be afraid. John 14:27
I sought the Lord, and he heard me, and delivered me from all my fears. Psalm 34:4
And let the peace of God rule in your hearts, to the which also ye are called in one body; and be ye thankful. Colossians 3:15
There is no fear in love; but perfect love casteth out fear: because fear hath torment. He that feareth is not made perfect in love. 1 John 4:18
Say to them that are of a fearful heart, be strong, fear not: behold, your God will come with vengeance, even God with a recompence; he will come and save you.  Isaiah 35:4
Another helpful thing to do when I feel fear and anxiety is to reach out to another person. One of my favorite things to do is to gift someone. What's the best is to gift them with the amazing gift of Scripture.
Mary and Martha have the perfect gift ideas for that!
100 Days of Faith Over Fear Journal
In this 100-day journey to a fearless life, you'll find space to reflect on God's strength, courage, and love. With encouraging devotions, empowering Scriptures, and heartfelt prayers, 100 Days of Faith Over Fear will help release worries, cares, and concerns to our almighty God.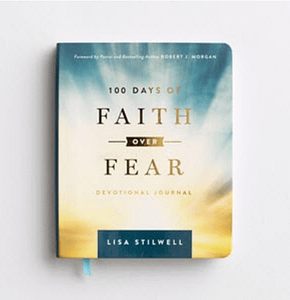 *You can grab the 100 Days of Faith over Fear Devotional Journal for $13 until April 30, 2020, here.
Modern Scripture Shareables / Floral Scripture Shareables
32 Scripture Shareables with a modern design in each box to share with a friend anywhere. A perfect way to let someone know you care. 
Encouragement Box |Acacia| | White | + Daily Encouragement & Inspiration Cards |Set of 65| 
Acacia wood box with metal accent pull. Includes one pack of cards & divider tab. 
Encourage your friends' hearts in these anxiety-filled days. Encourage them to look to Scripture. To look to our Heavenly Father. He is the only one that can truly calm all of our fears.
I will be praying for good health and calm emotions for each of you!