Now upon the first day of the week, very early in the morning, they came unto the sepulcher, bringing the spices which they had prepared, and certain others with them. And they found the stone rolled away from the sepulcher.  And they entered in, and found not the body of the Lord Jesus.  And it came to pass, as they were much perplexed thereabout, behold, two men stood by them in shining garments: And as they were afraid, and bowed down their faces to the earth, they said unto them, Why seek ye the living among the dead? He is not here, but is risen: ~Luke 24:1-6
Easter is a reason to celebrate. It's the day set aside each year to remember how our Lord and Savior Jesus Christ, was killed, buried, and then rose again, all that we might have the opportunity for eternal life with Him. 
How do you and your family celebrate the holiday?
Our family tradition is much the same, year after year. The entire family gathers after morning church services, for a special home-cooked meal, followed by an egg hunt for the children. I thought I would share with you some of my favorite items that Mary and Martha offer to help make a holiday meal special if a big family gathering is included in your Easter plans.
See how you can set the table on Resurrection Day:
The Simply Elegant Serving Board is made of Acacia wood, measuring 19-3/4″L x 8″W x 3/4″D. The message reads: Good food feeds the body, good company feeds the soul. There are three carved indentions to hold our Simply Elegant set of 3 Dip Bowls. And you can turn this board over and use it as a Charcuterie board.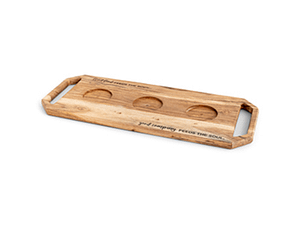 Simply Elegant Dip Bowls, Set of 3
Three ceramic dip bowls with 3 different embossed patterns. The message on the bowls read, give thanks, savor the moment, and say grace.
Simply Elegant Dessert Pedestal
This new dessert pedestal is perfect for serving cakes, pastries and more. You can easily twist-off the acacia wood pedestal base for easy storage. The ceramic top has the message: Made with love, served with joy! 
This table runner displays a neutral color pallet of cream, gray & taupe. The edges of the 84″ L x 16″ W table runner are fringed for a simple, and fun style.
Simply Elegant Table Napkins, Set of 4
The Simply Elegant Table napkins in a gray hue are a 20″ square with fringed edges. They pair beautifully with the Simply Elegant Table Runner.
Above all, remember why we celebrate Easter. Because Christ has risen from the grave. He is alive and well and is working among us daily.
If you need help ordering any of these items for your Easter meal, reach out to me and I'd be happy to help. 
Have a blessed Easter, my friends! Tell me, what are you cooking this year for your Easter meal?
For more blogs, check them out here. Also, check out my Facebook page here and even join my exclusive group here for Mary & Martha sales and promotions, as well as games, giveaways, and prizes. I'm also on Instagram and Pinterest so there's a place for you to find me for whichever platform you prefer.