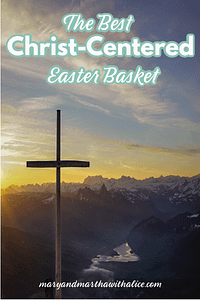 I have always felt it is important to draw my child's attention to the real meaning and reason for Easter which is Christ and the celebration of His victory over the grave. And, how on the third day, He arose and is alive today.
While I try to make it a fun holiday for my children, I keep the main point at the front. I want to use the opportunity to help engage with them on the truth, upon which our Salvation stands.
Easter baskets can be a wonderful tool for that. 
An Easter basket does not have to be from the "Easter Bunny". When you gift your child with the basket, tell them you are giving them a gift to represent the greatest gift we have been given. The gift of Christ rising from the grave, allowing us the opportunity for eternal life with Him. Mary and Martha offer many options that can help you easily curate a Christ-centered gift for your child.
Let me share with you the Best Christ-Centered Easter Basket!
Mary and Martha Easter Basket Essentials
A 100% cotton black and Ivory woven basket. Holding embossed leather tag reading Faith. The simple word faith, says so much for Easter. Faith that Christ did rise from the grave.
The children's book "God's Easter Promise" board book brings light to the true meaning of our celebrating. That Jesus lives. A life given…a Savior risen…a promise fulfilled.
All Creatures Great & Small Bunny Plush 
Every child loves a sweet thing to cuddle. A bunny represents innocence and the hope and renewal of springtime.
Teach your child what God wants them to be. Each magnet has a letter and corresponding faith-building word and quote to creatively remind them of what God expects of us all.
All Creatures Great & Small God's Bible Promises Animal Matching Game 
10 animal cards that match to corresponding texture cards. Each pair teaches God's Bible promises in an easy-to-understand way with Bible verses on the back of each card.
Just add chocolate or any other special treat to your child's basket and when you present them with the basket, tell them the story of Jesus.
Tell them how He gave up everything. How He came to earth and lived a sinless life. How He willingly laid His life down, and died upon the cross, for our sins and that when all hope was lost, He arose on the third day.
Resurrection Verses
"For God hath not appointed us to wrath, but to obtain salvation by our Lord Jesus Christ, who died for us, that, whether we wake or sleep, we should live together with Him." 1 Thessalonians 5:9-10
"Blessed are they that have not seen, and yet have believed." John 20:29
"For I know that my redeemer lives, and that He shall stand at the latter day upon the earth. "Job 19:25
If you need any assistance with ordering for Easter baskets, please reach out and I'd be happy to assist!
For more blogs, check them out here. Also, check out my Facebook page here and even join my exclusive group here for Mary & Martha sales and promotions, as well as games, giveaways, and prizes. I'm also on Instagram and Pinterest so there's a place for you to find me for whichever platform you prefer.