Are you doing some spring cleaning? Dusting, tiding, scrubbing dust from the winter months? If you are, you might want to help make your home feel cleaner, by making it smell sweeter.
A wax warmer is a perfect way to do just that!
We all know the sweet smell a candle can bring to a room. A wax warmer will do the same thing. But the added bonus to a wax warmer is that it is flame-free. Which makes it perfect if you have little ones or pets in your home. 
Mary and Martha have a beautiful new wax warmer in the new Spring+Summer Catalog, that would be the perfect addition to any home.
The "Simply Elegant Ceramic Wax Warmer" comes in a perfect, neutral gray hue. Featuring a simple clean line effect. The words "Count your blessings" are engraved on the outside. And you are able to melt the wax safely and easily and fill your home with your favorite scent.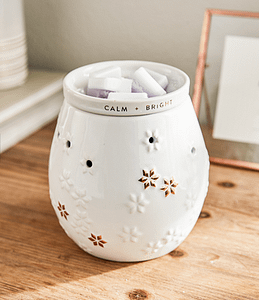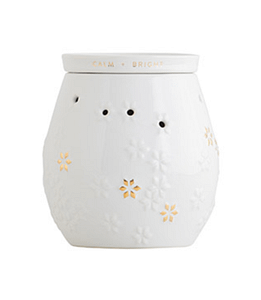 Mary and Martha carry a variety of scents. Seven to be exact. There is a scent for everyone's taste. Or smell to be exact.
I hope you will give Mary and Martha new wax warmer a place in your spring cleaning. Bring the comforting and peaceful fresh scents of the new life budding all around you in this new season.
If you need any help with placing an order, please reach out to me and I can assist. You can purchase straight from the site here.
Also, check out my Facebook page here and even join my exclusive group here for Mary & Martha sales and promotions, as well as games, giveaways, and prizes. I'm also on Instagram and Pinterest so there's a place for you to find me for whichever platform you prefer.
Which wax melt do you want to try first? Let me know in the comments!