Valentine's Day is right around the corner and it's the perfect time to emphasize the gift we have been given. The gift of love.
Love is patient. Love is kind. Love bears all things. Love hopes all things. And love endures all things. Love is one of the greatest gifts we have been given and it is worthy of being celebrated!
Is there a special lady with whom you would like to show and celebrate your love for? Would you like to get her a meaningful gift? One that will remind her of her own relationship with the Lord?
Mary and Martha's new Spring/Summer catalog has you covered with new jewelry designs and a very new jewelry holder!
Mary and Martha Jewelry
In Christ Necklace – In your choice of silver or gold. Featuring four words from Ephesians 1, on one necklace. Loved. Chosen. Redeemed. Forgiven.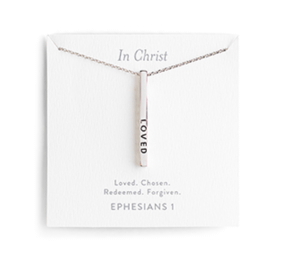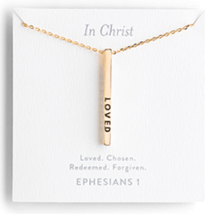 Leather Bracelets- In black or gray leather. Featuring the word "Peace" or "Grace". They come in a linen textured envelope with an Ephesians 1:2 scripture card.

Hello Hope Tiered Necklace– A gold tier necklace, featuring Hebrews 11:1, on one tier. And "Hello Hope" on the second tier.
Everything Necklace- In silver and gold, with a bar pendant with the word "Everything" written on it. Reminding us that He is our everything. Ephesians 1:11
Mary and Martha Jewelry Holder
And for the lady who has all the jewelry, consider the "Put on Love" jewelry tree.
This stunning jewelry stand is made out of acacia wood and brushed gold metal. Engraved on the stand is Colossians 3:14, "And above all these, put on love."
With 9 mini necklace bars, 2 bracelet bars, and 24 holes for earrings, this is the perfect way to organize and beautifully display one's jewelry.
Remind the special woman in your life of the greatest gift we have been given through Mary and Martha's jewelry. The gift of love from the Lord.
I'm here to help you need any help with getting these items ordered for that special lady in your life.
Wishing you and yours a very Happy Valentines Day!