Do you need help with the last few people on your Christmas list? Or perhaps you are suddenly adding to that list? Or maybe you have just been delaying because you are not quite sure what to gift. Not that anyone would be guilty of that…..
Today I have compiled the perfect last-minute Mary and Martha gift guide.
To make it easier for you to find what fits your budget best, I am sharing 3 gift ideas, in 3 price categories.
Thirty-Five Dollars and Under
Welcome Door Mat– The perfect gift for anyone to place on their front door step. Simply and beautifully designed, this mat message reads, Welcome always come as you are.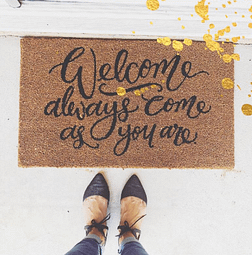 Just Open the Door Book, plus Hospitality Labels – A book written by Jen Schmidt, teaching one how to open their hearts and homes, to easily minister and get to know the people around us. And with the coordinated labels, allowing you to share a note, or even hand written recipe, this would be a gift to anyone who wants to learn to minister to others in an easy and tangible way.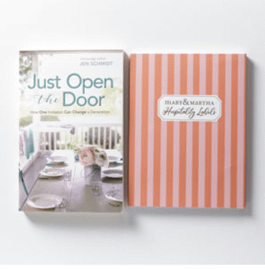 Honey Jar– This would be a fun and unique gift for the sweet's lover in your life. A glass jar, with honey scoop, to beautifully and functionally store honey on your kitchen counter.
Fifty Dollars and Under
Faithfulness Kitchen Caddy– This specially crafted caddy can help organize any room, table or desk. Its made of acacia wood, with bronze flowers that are handmade by artisans in India. Featuring the verse, Great is Your faithfulness, from Lamentations 3:23 ESV.
Adventure On Cuff Bracelets– This lovely bracelet set includes two individual brass cuff bracelets with satin gold overlay. Stamped message on first cuff reads, Live courageously. Adventure on. The message on the second cuff reads, Deuteronomy 31:6. They include a gift box and card with message that reads, "Sometimes we need to be reminded we never journey alone. We have a faithful God who is with us every step of the way—giving us strength for any challenge, courage for any battle, and joy in any circumstance. He made us for great adventure—so live courageously and adventure on!"
Grace & Gratitude Pillow– Gift someone the gift, of easily refreshing their home with this hand-lettered, embroidered pillow with the message reading, Grace & Gratitude. And it even has a prayer pocket on the back of each pillow with a special message. Allowing anyone to fill this pocket with hand-written prayers and favorite Scriptures.
One Hundred Dollars and Under
We Will Serve Magnetic Sign– A printed canvas magnetic sign with wood frame, with a message that reads, "As for me & my house, we will serve the Lord. Joshua 24:15". It includes 5 gold magnets, to be used as desired. Making this an almost customizable gift for the recipient.
Paved with Love Overnight Tote– This beautiful overnight bag, features an embroidered message of "Beautiful the journey paved with love." It has metal feet on the bottom to keep it clean, with a removable shoulder strap. A sweet gift for the traveler in your life.
Done in Love Serving Board– An acacia wood board, with an engraved message reading, "Let all that you do be done in love". This would be a sweet heirloom gift for the kitchen enthusiast.
But remember, in order to receive your gifts in time for Christmas, your last day to order using standard shipping is December 16th. You can choose expedited shipping, and you have until December 19th. So, don't wait too long! Get those last minute gifts off your list and ready for Christmas today!
Follow us on: