Tis' the season for giving, and blessing someone in your life! If you are looking for a special gift, in particular for the ladies in your life, then stay put. I am going to share the 5 Mary and Martha gifts, that I think will be perfect to gift your mother, grandmother, sister, cousin, or any other person in your life, at this special time of year.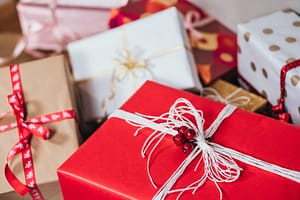 Encouragement Box– This is the perfect gift, that truly does keep on giving. Coming in either your choice of white or acacia wood, this little box comes with 65 daily encouragement and inspiration cards. Your recipient can place this little box in their home, and easily pick out a card filled with scripture and inspiration to encourage their heart on a daily basis. Bonus, you can easily grow the collection by adding on from a choice of three different card packs.
Grace & Gratitude Queen Anne's Lace Pitcher– This is a truly stunning pitcher, featuring the verse from I Chronicles 29:13, stating "Our God we give you thanks." It's a gorgeous white and gray, with a beaded border, giving it a unique and vintage look. This style of pitcher would fit into any one's home décor, for either kitchen use, or to display a bright bouquet of fresh blossoms.
My Life Photo & Card Holder – A 24″L × 18″W, gold-finished metal rack, to easily, and stylishly display one's favorite photos or cards. It has movable metal words and includes 8 clips. Allowing you to quickly and easily change out one's photos for display. A lovely way to showcase one's memories whehter it's photos, cards, or notes!
Sanctuary Candle: A Place of Comfort – Who doesn't love a candle? Candles might just be the one gift that EVERYONE loves to receive. And the Place of Comfort Candle would be a perfect one to gift. With the scent of sweet caramel vanilla and Psalm 91:4 displayed on the jar, you would be gifting the reminder to rest in our Lord, and in His sweet comfort.
100 Days of Bible Promises + Fresh Joy Mug – Gifting God's scripture, is my favorite thing to give. It's life to our souls. It's what every single one of us needs most of all. This 100-day devotional journal from Shanna Noel prompts you to dive into God's word, with topics such as freedom, comfort, grace, and gratitude. There is also space for doodling, journaling, writing notes, or any other forms of creative expression. Allowing the person reading to listen to the voice of our Lord, and to pray and reflect upon His promises.
This wraps up my gift guide. I pray it makes it a little bit easier for you to be able to bless the women in your life. If you need any help with ordering please reach out to me and I'd be happy to assist. The last day for Standing Shipping orders to get by Christmas is 12/16/19 (noon CT) or for 2-day Shipping is 12/19/19 (noon CT).