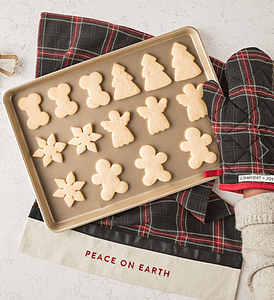 If there is one sweet treat, that is 100 percent necessary for Christmas time, what would say it is? I am pretty sure I would have to say the cookie.
Christmas cookie baking is a tradition in many households. As cookies are easy to make dessert and are great for getting friends, and the whole family involved in the baking process.
One way to involve and bless others during the holiday season is to host a Christmas cookie baking and exchange party.
Pick a day on your calendar, where you can invite several friends and family members into your home. Invite said friends, and tell them to bring their favorite cookie recipe and the needed ingredients to bake with one another and spend the day fellowshipping over cookie baking.
Oh, the best part? Everyone gets to take home some cookies to enjoy!
But while you wait for the day to arrive, prepare your kitchen with some cheery Christmas accents and some tools that will make your day of baking and fellowship go smoothly.
Such as the Comfort + Joy Oven Mitt + Cookie Cutters + Recipe Cards. This amazing bundle comes with the Joy Oven Mitt plus the 5 festive cookie cutters and 11 cookie recipe cards! You can easily shape your favorite sugar cookie recipe or better yet, follow the easy recipe included on the day of baking.
Also, a bonus is that this set comes with blank recipe cards which would be perfect for jotting down all those favorite cookie recipes your friends share!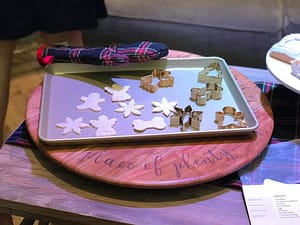 Some other items to aid you and your guest bakers in the kitchen would be…….
*Mary and Martha's Comfort and Joy Christmas Apron-a festive touch to protect your clothing from sugar and flour dust
*Mary and Martha's Comfort and Joy Oven Mitt–perfect for protecting hands from a hot baking sheet
*Mary and Martha's Peace. Rest. Be Blessed. Plate Set + 2-Tiered Stand– a stunning way to display some of those baked goodies.
After your day of baking. Get a friendly competition going. Have everyone vote on their favorite cookie recipe, and then award the winning recipe with a prize. Such as the Peace on Earth Tea Towel or maybe the Simply Christmas Dessert Plates.
Hmmm… I don't know about you, but I think it is time to get going and plan an amazing day of fellowship and bake some cookies. If you are ready to purchase your essentials for a smooth baking day and cookie exchange party, contact me today and I can help you get these items ordered!