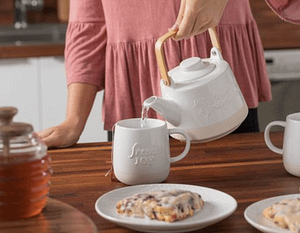 On day 3 of creation, God created land and plants. All manner of moss, grass, flowers, shrubs, and trees. One particular tree He created was small.
Through the ages, man discovered that you can take the leaves and buds off of that small tree, and boil them to make a warm, comforting, and nourishing drink. The drink we know of as tea.
The practice of making and consuming tea has passed from generation to generation. It is ingrained into most cultures. And while we tend not to drink tea as often in modern America, it is still an alive and vibrant part of many societies.
It's a daily ritual of comfort. A time to pause on a busy day and at times, a means to share kindness with a friend.
When I reflect on those thoughts, it makes me want to start a daily tea time. And how wonderful would it be to combine that time, with daily devotions? An opportunity to pause for physical comfort and rest as well as spiritual growth.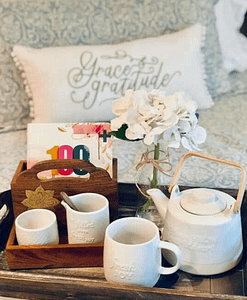 The Mary and Martha "Fresh Joy Teapot" would be a perfect way to begin a daily tea time.
Whether you want to steep a pot for yourself. Or perhaps invite friends over to share in joyful times, this beautifully crafted teapot, featuring the quote, "Joy Flows From A Grateful Heart" is a perfect way to start up a daily pause.
Imagine setting up a once a week get together with some close friends. You could create a simple and beautiful tablescape with the Fresh Joy teapot filled with steeping earl grey for your center. Fill your "Fresh Joy Sugar and Creamer" containers with said sugar and cream, and place a "Fresh Joy Mug" at each place setting. What a charming way to host and minister to those close to you.
Another way to include the beauty of tea and its accessories, but perhaps not by actually making tea, is to use your teapot as a vase. The beauty of the "Fresh Joy" teapot is that it is a perfect neutral. It can be used to hold flowers and greenery of any shade.
In the spring and summer, it could be filled with baby's breath or sunflowers. In the fall, fill it with some of the changing leaves, straight from your own yard. And in the winter, some fresh pine stems.
You could place your filled teapot on your table for an easy to change centerpiece. Or perhaps on a shelf, sitting atop a few books.
And of course, the teapot, mugs, and sugar and creamer set would be an amazing gift. A gift to remind a friend to pause, and reflect in the joy, that overflows from being thankful for the simple gifts in life.
The "Fresh Joy Teapot" is the perfect reminder of all the gifts God has blessed us within nature and how He graciously reminds us to be thankful, and grateful for all of those sweet gifts. For joy truly does flow from a grateful heart.
Are you interested in grabbing this teapot and accessories for a special someone this holiday season or perhaps a birthday gift or just because gift? If so, reach out to me and I'd be happy to help. Whoever receives this beautiful teapot and accessories will be experience joy in so many ways!