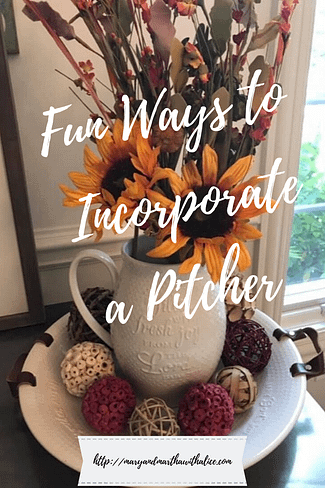 Have you seen one of the latest home decor trends? Decorating with fun pieces like a pitcher is highly common now in a lot of homes. What better way to incorporate a beautiful pitcher in your home than with the inspirational Mary & Martha Joy Pitcher?
The message on the ceramic pitcher reads, "Be filled with fresh joy from the Lord. Isaiah 29:19". As the Bible states in this verse, we should seek to increase our joy in the Lord. This pitcher is a reminder of this beautiful truth.
The Fresh Joy Pitcher measures 8 1/2″H and holds 3 quarts. It's dishwasher and microwave safe. Do you know what else makes this such a great item to get right now for your home or for someone as a gift? It's only $26 with any retail purchase of $35 or more here. 
Since this is such a beautiful, fun, and versatile piece for your table and home, I want to share the top ways to use a pitcher! Here are some fun ways to incorporate pitchers into your home:
 Options:
-Real flowers: you can use real flowers that you purchase from the store or you can even pick flowers from your garden.
-Artificial flowers: grab beautiful flowers that you don't have to worry about watering or dying. You can also make these very seasonal!
You can change it up often when you use this pitcher as a vase. As the seasons change or a new holiday rolls around, you can change the decor in the vase to match. Here is an example of a fall-themed vase: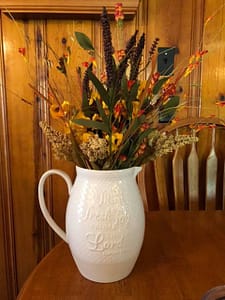 Other seasonal uses for a vase:
This makes a great piece to organize and hold all those kitchen utensils. It looks great on a counter and can be very inspirational every time you look at it! It's a great way to get those kitchen utensils out of the drawer and seen and even better, you now have a free kitchen drawer, score!
Decorate the Top of Kitchen Cabinets, Hutch, or Shelves
It's so simple, easy, and pretty to have pitchers of various sizes or all the same above your kitchen cabinets, on top of a china hutch, or on a shelf. You can place a pitcher just about anywhere. You can style them in different ways and have flowers and various decor items in and around them.
Last but not least, you can always use it for what it's truly designed for. This is a great pitcher that you can use for simply serving water which is a more traditional use. It would make a great addition to any family gathering, event, or party.
Options: 
*For Thanksgiving and Christmas, you could use this for water or any other beverage and display this on a nice beverage table or either a kitchen counter with decorations around it.
*For a breakfast function, you could use it to serve juice. This would make a beautiful centerpiece for your breakfast buffet!
*For a baby or wedding shower, you could use it to serve a yummy punch!
*For a birthday party, you could use it to serve some homemade lemonade.
I hope these ideas will encourage you to pick up up this Fresh Joy Pitcher from Mary & Martha and get creative with ways to use it! Also, this would make a great gift for anyone.
Don't forget you can get this Fresh Joy Pitcher for only $26 with any retail purchase of $35 or more here. Let me know if you have any questions or need any help purchasing.
What is your favorite way to use a pitcher?