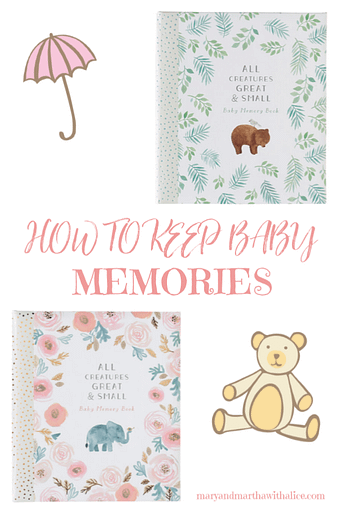 Who doesn't love looking back at old baby pictures and remembering all those days of holding that precious blessing?
I know I love reminiscing about my children being smaller and looking back at all those sweet memories. The first year of life definitely is one of the most memorable…your baby goes from newborn to sitting up, crawling, and even walking! They do so much in one year and it's great to capture those memories as they fly by.
I'd like to share some tips with you on how to keep memories of your baby's first year and the first few years that will help you not forget those special times as they grow so fast!
Here are the Top 5 Ways to Cherish Those Sweet Memories of Your Baby's First Few Years:
Get a Baby Book
I think this is one of the biggest steps through this process and one that you want to get as soon as you find out you are pregnant (or the person you are purchasing it for finds out). You'll find many different options for baby books and it can be hard to pick the one. But, don't worry I have the perfect one picked out for you!
All Creatures Great & Small Memory Book-Girl – this adorable baby book is the girl version but full of specialty pages in beautiful neutral colors. This memory book includes 32 designed pages, 5 accessory pages, optional adoption page, and much more! It measures 7 3/4″ W × 8 3/4″ H × 1 1/4″ D.
All Creatures Great & Small Memory Book-Boy– this adorable baby book is the boy version but full of specialty pages in beautiful neutral colors. This memory book includes 32 designed pages, 5 accessory pages, optional adoption page, and much more! It measures 7 3/4″ W × 8 3/4″ H × 1 1/4″ D.
These memory books pair very well with our coordinating items in our plush collection (sold separately). Our plush collection has a variety of different animals to choose from: bunny, elephant, giraffe, and narwhal.
Also, don't miss out on this amazing deal for the month of September 2019! The All Creatures Great & Small Memory Books are also on customer special this month only. This means if you place a $35 retail purchase, you get to pick up this amazing memory book for only $19! That's $19 off!
Start Collecting Memories
This is the fun part! Enjoy that precious baby and soak up all those sweet baby cuddles and all the first's. Make sure you capture them in photos and writing down the details so you don't forget to add it to your memory book. Many of us have smartphones these days with some sort of notepad. Keep up with the milestones in your notepad on your phone that way you have all those in one place so you can add it to your memory book.
There are so many memories in that first year and in the next couple of years. Lots of developmental milestones as well as other sweet memories like first ultrasound, maternity pictures, baby showers, delivery, postpartum, first words, first birthday party, and the list goes on. Make sure you capture all these sweet moments so you can share it with your child (and get it out and reminiscence sometime too!)
Get Pictures Printed Once a Month
You just have to have pictures to add to the memory book. No better way of seeing how the baby changes month to month than with pictures. Most people take photos on their smartphones and then have them printed. If you are doing this, check out your local stores like Wal-Mart, CVS, Walgreens, etc. and you can upload pictures to their app on your phone and schedule to pick them up all printed for you! They really make it super convenient these days to print photos off your phone and in a timely manner. If you are taking photos with an actual camera, then take your card or disposable camera or whatever you may have to the store to have the pictures printed. Stay on top of this step so you have the sweet photos to add to the memory book.
Schedule Times to Add to the Memory Book
May sound crazy to schedule in some time but believe me you'll be so busy you may forget and then won't remember what to add to the memory book. My tip is to sit down at the end of each month or each month milestone of baby's age (ex. 1 month old, 2 months old, etc.) and schedule quiet time to jot down all the memories and add all the photos. Make sure you don't skip the previous step as you need the pictures printed so you can add them to the book! If you take the time to sit down and do this every month, you'll be able to stay on top of it and make sure you don't forget any special moments!
Enjoy the Memory Book and Thank the Lord for Every Single Memory Made 
You have to save the best tip for last, right? After all the memory keeping, take a step back periodically and enjoy the memory book. Reminsense about all those sweet and maybe even hard times that the Lord brought you and that sweet baby through. Take this time to thank the Lord for that beautiful life that truly is a blessing. Cherish those sweet times with your children and keeping them in a memory book is a great way to hold on to those memories forever.
"Every good gift and every perfect gift is from above, and cometh down from the Father of lights, with whom is no variableness, neither shadow of turning" – James 1:17
I hope these tips will be a help to you all as you document your child's memories. If you need to purchase one of these memory books for yourself or for someone else, please reach out to me and I'll help you get this headed your way! Remember, from now until the end of September the memory books are one of the customer specials and are only $19 with a $35 retail purchase.
Do you have a memory book for your child(ren)? If so, what is your favorite section of the memory book?