Importance of Reading to Babies (with the God Made Just One Books)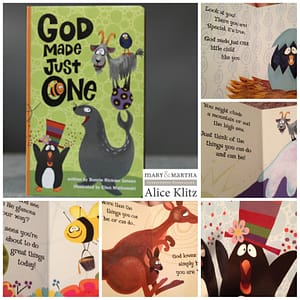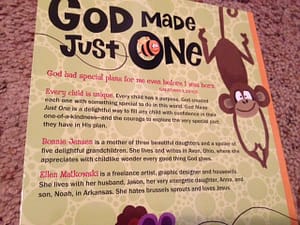 Did you know it's important to read to babies? Sounds a little odd since they do not understand everything you are doing or why but reading aloud is important for their stimulation and development.
Here are the top four reasons you should read to babies:
Teaches a baby about communication
Introduces concepts such as numbers, letter, colors, and shapes in a fun way
Builds listening, memory, and vocabulary skills
Gives babies information about the world around them
According to Kids Health, babies learn all the sounds needed to speak their native language by their first birthday. That's unbelievable! What does that mean? The more stories you read aloud to them, the more words that your child is exposed to and the better they are able to talk.
What's even better? Reading to your babies about God!!! Allow the babies in your life to be exposed to the sweet words of our Heavenly Father. This is so very important even at this early age, so it resonates with them. Our God Made Just One Book does just that!
I urge you to pick up this adorable book and plush for the baby in your life and read to them about God. As you can see, it can help in so many different ways.
If you need any assistance with purchasing this set, please feel free to reach out to me. Also, if you purchase this set, share with me your experiences with it and even better, send me a picture! I'd love to see you reading to your little ones with this sweet set.
Leave me your comments: Does your baby like to be read to? What is your baby's favorite book?
Resources: Ben-Joseph, E. "Reading Books to Babies". Kids Health. June 2018. https://kidshealth.org/en/parents/reading-babies.html. July 2019.