How Christian Home Décor Can Be Beneficial in the Home and Grabbing a Hostess Décor Piece in June
Have you had your eye on that beautiful, wooden sign from Mary & Martha that would look great in your home whether it's a family room or a child's room? I know the All Creatures Great & Small Wood Sign would look amazing in your home and for the month of June you can get it over ½ off if you host a gathering of $500+ in sales. Just think, you can have a fun gathering with some ladies in your home (or virtually) and grab this beautiful wood sign for only $54 (normally $129). This sign along with many other Mary & Martha pieces can encourage the Light of God to shine in your home.  Here are the top ways in which Christian Home Décor can be beneficial in the home:
Leave an impact on all who visit your home.
When you have visitors over and they read scripture, Christian quotes, etc. they can be encouraged through those words. You never know what they could be experiencing, and that beautiful wooden sign could make a lasting impact on them. It's simple when Christian décor is in your home, they serve as a reminder to your guests that God loves them!
Leave an impact on all that live in your home.
The more encouragement and scripture around me the better I feel. It's encouraging, convicting, and eye-opening to read what the decor says displayed in my home. Not only does it help me, but it can also encourage Love, Faith, & Hope in the lives of my family
Over 40 years ago I received a small plaque that has made a lasting impression on my life. The plaque has Proverbs 3:6 on it: "In all thy ways acknowledge Him and He shall direct thy paths". This plaque has moved with me and hung in my bedroom, dorm room, kitchen, and office over the years. This has become my life verse and it has filled me with hope and encouragement during different stages in my life. Just think if one little plaque can have that much impact on me, imagine what all the Mary & Martha products can do!
Helps us to stop and reflect on the Lord and what He's done for us
Sometimes we need to slow down and appreciate all the many blessings so what better way than a beautiful sign like the All Creatures Great & Small to remind us of who created us and how He made all things well! When you have this type of décor in your home a quick passing of it or sitting down and reading it really can help you to reflect on the Lord and what He has done for us all.
If you are interested in hosting a gathering with me and grab the All Creatures Great & Small Wood Sign for your home, then please check out the host a gathering form located here. All you have to do is fill out a short contact form and I'll be in contact with you very shortly. I'd love to schedule a Gathering for you and your family and friends to hear more about Mary & Martha and be able to decorate your homes with these amazing products.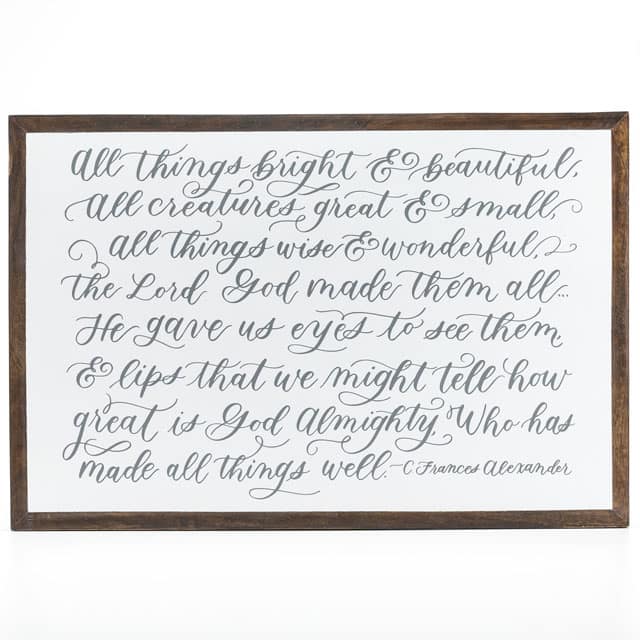 Just in case you are wondering, here are a few more details about hosting a Gathering:
You earn FREE and ½ Price Items
Yes, you heard me correctly! You get rewarded for the ladies that come and purchase Mary & Martha items. To determine how many ½ price items you receive and how much credit you will receive for free items is based around what your total in sales are for the Gathering. Also, you get to earn an additional half-price item for each Guest who books and holds a Gathering! Talk about a great way to decorate your home, table, or earn some gifts!
Anyone can host a Mary & Martha Gathering. Gatherings are a great and fun way to connect with your family and friends along with seeing some beautiful products.
This month there are some beautiful pieces for the June Hostess Special that you don't want to miss:
I hope you will consider decorating your home with Christian décor like the products that Mary & Martha offers so that you can make lasting impressions on your own and others' lives.
What is your favorite June Hostess special? (comment below!)